Fitness is one of the most important aspects of living a healthy life. While there are various ways to stay fit, a busy schedule calls for measures that are quick and easy to at least set you on the right track, if not achieve the desired result. So if you are short on time to sweat it out at the gym or even set up a gym at home, then modern exercise equipment like a treadmill can come in handy.
With smart controls and designated features, these machines are extremely helpful if you want to tone your body without having to spend your fortune. However, with an array of options available in the market, picking the perfect treadmill can be daunting. Here are a few durable and compact ones that you can try.
What is a treadmill?
A treadmill is an aerobic equipment that is used for walking and running indoors. While on a treadmill, you walk on a belt that is attached to the top of the machine which acts as a moving platform. You can manually adjust the speed of the equipment according to your need and can exercise from the comfort of your home.
Benefits of using a treadmill
Exercising using a treadmill is one of the best cardio workouts that can benefit you both mentally and physically. Walking on a treadmill helps you maintain a constant heartbeat as you work out. According to Healthline, it allows you to perform high-intensity interval training that burns more calories in a short time. Like other cardio workouts, it can also help you reduce the risk of heart disease, other chronic diseases, improve sleep, boost your mood and improve brain function.
Types of treadmill
Below are some of the most common types.
Manual treadmills: These are basic eco-friendly equipment that work without electricity. The belt of these moves as you walk on them.
Motorised treadmills: A mechanised version of a manual treadmill, it features several functions, including speed, walking modes, LED displays and Bluetooth.
Hybrid treadmills: A combination of a traditional treadmill and an elliptical trainer, this equipment lets you move from one mode to the other quickly.
Under-desk treadmills: Aligning with the modern work pattern of people, these are flat machines without handles and can be conveniently placed under your desk. Walking pads designed to be used at low speed let you perform basic office work, like checking an email or attending calls, while you walk.
Medical treadmills: Used mostly by medical professionals and at gyms, these are used by doctors to check the condition of patients. These machines are durable and come with features like easy grip handles and extra-large size.
Folding treadmill: These can be folded into a compact unit.
How to choose the right one?
A treadmill can be a costly investment, and you would not want to go wrong. So, buy one that aligns with your lifestyle and requirements. For instance, if you are someone who loves multitasking and spends a lot of time on a laptop, then an under-desk one will suit you best. If you are looking at a treadmill that is slow-paced, then you can try a non-motorised one. Look for features such as a safety key that helps you stop the machine if needed. You can consult an expert or a physician before zeroing in on an option as well.
How to use a treadmill
Keep these pointers in mind before you start using one:
Do some warmup exercises.
Invest in running shoes for better grip and gym wear for comfort.
Hydrate yourself well before beginning to exercise.
While on a treadmill, begin walking at a slow pace and gradually pick up speed, depending on your comfort and workout regime. Take regular intervals.
Always attach the safety clip even if you plan to walk slowly.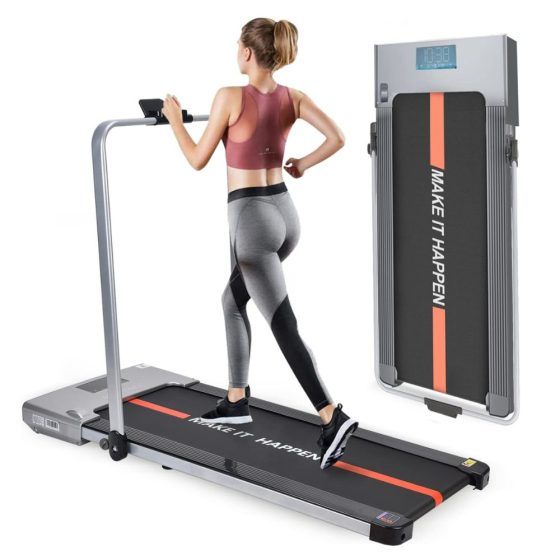 Welcare Maxpro treadmill is an under-desk equipment that features a 2 HP quiet Motor. It has a multi-functional LED display that allows you to track progress in terms of speed, distance, time and calories. Featuring a walking and running mode, it can be conveniently folded and kept away after use. It can accommodate a maximum weight of 90 kg.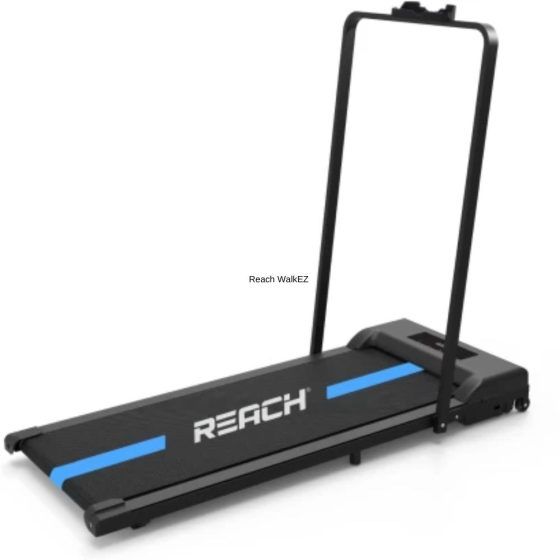 This motorised treadmill from Reach WalkEZ is a compact and lightweight under-desk machine that allows for easy storage and transport. It can accommodate a maximum weight of 110 kg and comes with features such as LCD and a remote. With two modes — walking and running — the equipment has a cushioned surface that helps reduce the impact on joints. It is ideal for people who wish to undergo a low-impact cardio workout.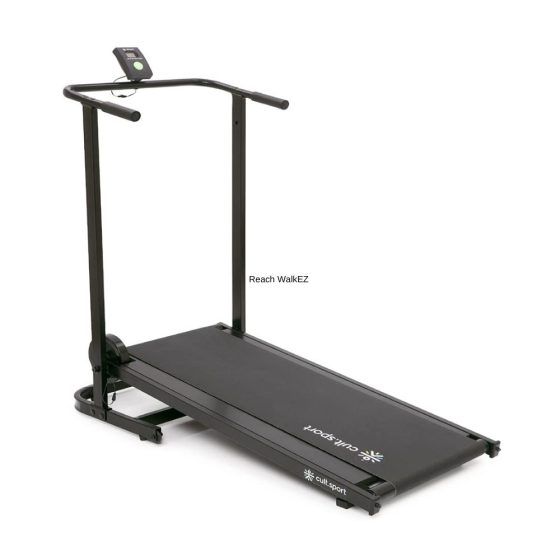 This single-functional manual treadmill from Cultsport comes with an easy-to-read digital monitor. It displays time, speed, distance, calories and heart rate. This basic machine is an eco-friendly option that requires no electricity. Foldable and compact, it also has wheels that allow it to be easily transported. This is an ideal option if you are a beginner and want to start using one.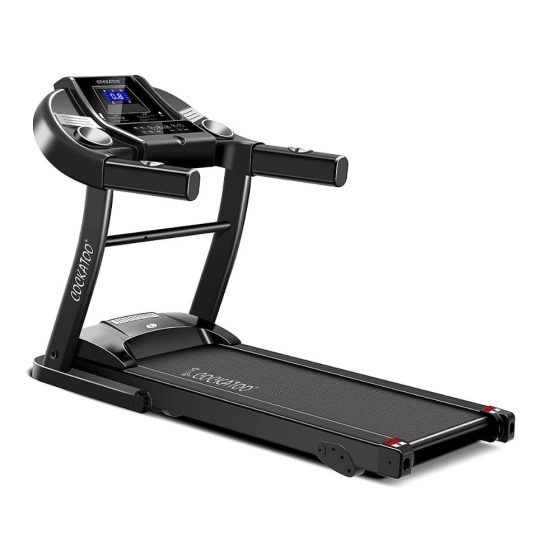 This powerful treadmill from Cockatoo comes with a three-level manual incline and features running and walking modes. It has a 1.5 HP to 2 HP Peak motor and can accommodate a weight of up to 90 kg and has 12 programmes for intense effective workouts. It also comes with a five-inch LED screen and can capture time, speed, distance, calories and pulse measurements.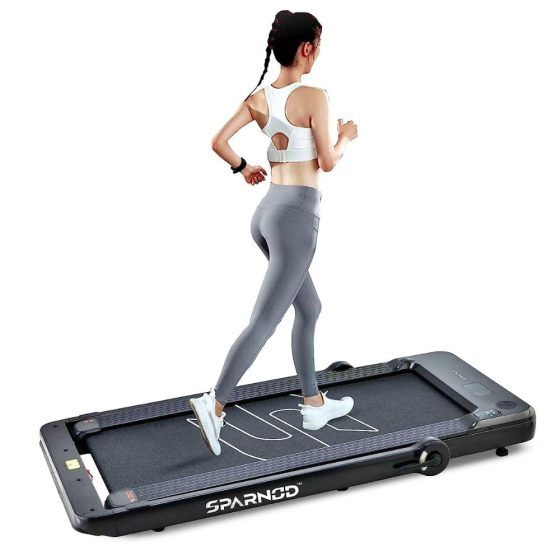 This treadmill from Sparnod comes with running and walking modes and is a compact one that takes minimum storage space. After use, it can be conveniently stored under your desk or bed. It features a 2.25 HP continuous, 4 HP Peak DC Motor that is powerful yet silent. This model requires no installation, and you can just plug in and use it easily. It also has a one–year warranty against part failures and manufacturing defects. It can support up to 110 kg.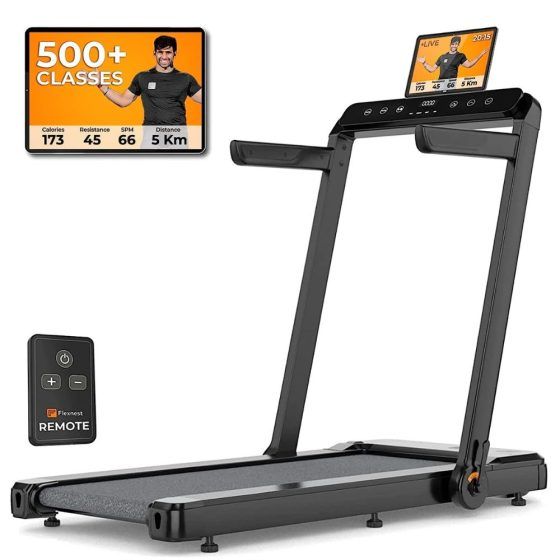 This powerful treadmill from Flexnest can support up to 120 kg. It has a powerful 1.25 HP continuous, 2.5 HP peak motor. Space–saving and easy to set up, this treadmill has a flex pad that is foldable and wheels that allow easy storage.